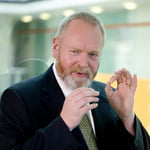 Hans-Jürgen Kugler is Chief Scientist of Kugler Maag Cie GmbH, an independent, international consulting company, specialising in the improvement of business and product development processes – from analysis, consultancy, and operative implementation to training and coaching. He is interested in developing 'servant leadership' and 'spiritual capital' in the corporate domain. Hans-Juergen has acted as a volunteer consultant to Luisne for the past year.
Patrick Lennon
Patrick has over 28 years experience in sales, marketing and event management in Ireland and the UK.
Having first worked here as a volunteer setting up the Luisne database and email newsletter systems. He has helped at events such as Open Days and exhibitions and tours of the building and ground.
Recently he co-ordinated our first  "Let's Grow" part of Luisne's community youth outreach programme  with the local Kilcoole Primary School and on another day with Sunbeam House clients. The "Let's Grow" youth initiative links to two of Luisne's core values – the Environment and Health and Wellbeing.
Padraic Hurley:
 Dr Padraic Hurley is an Action Researcher in the field of Adult Developmental Psychology and Integral Psycho-Spiritual Development. He lectures in Contemplative Pschology on an MA in Applied Spirituality and works as a Community Development Officer with Dun Laoghaire Rathdown County Council. He sees clients for spiritual accompaniment and acts as the national co-ordinator for SIMPOL.org. Padraic has a degree in Sociology, Philosophy and Theology, a hDip in Education and a PhD in Adult Developmental Psychology.
Koen Verbruggen is a geology graduate and has an MSc in Petroleum Geology. He spent 15 years in the resource industry, briefly in Oil & Gas exploration and the majority of the time working with mineral exploration. In 2000 Koen joined the Geological Survey of Ireland (GSI) and was appointed Director of GSI in 2013. Apart from sharing his skills, as a native of Kilcoole Koen will provide an invaluable link with the local community