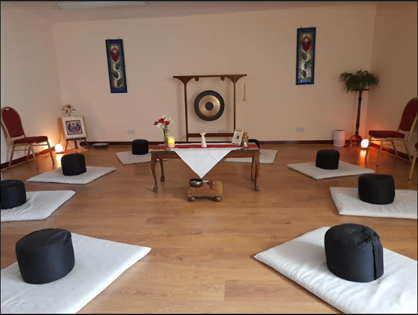 Luisne Centre for Well-Being
Bray, County Wicklow
Luisne offers a space for Courses, Meditation, Mindfulness, and Healing Therapies. Our approach is holistic, inclusive, and welcoming.
The word 'Luisne' is an old Gaelic word meaning the first blush of light before dawn breaks.
We chose this name for the Centre as we work towards the dawn of a new consciousness of our sacred and deep interconnection with all life forms and the sense of respect and responsibility that results.
Culture Night has passed.Thank you to all the vistors who joined us, and thank you to all the teachers who helped make a very special evening!
Are you a tutor or therapist looking for space to rent?
Please see our Room Rental Page for room size and pricing info.
Weekly Courses
Special Events
Meditation
Holistic & Traditional Therapy
Courses
Courses are usually offered during the week and occur in 4, 6 or 8 week blocks. Some courses can be joined at any time, while others require starting at the beginning of the term. Contact any individual tutor to learn more.
A place to meditate
Every weekday at Lunchtime people are welcome to come in and sit quietly from 12.10 – 12.40. Cost: By Donation. Luisne also offers weekly and monthly meditation options, please see the course listings for more information.
Events
Events usually happen on weekends and offer the opportunity to learn something new, dive deep into a particular topic, or to celebrate a special occasion.
Luisne offers two therapy rooms that can be rented by individual therapists. Current offerings include Individual Therapy and Sound Therapy. Click HERE to read more about therapists working from Luisne.
What's on Now?
Autumn 2022 Listings
About Luisne
Luisne is run by one of its founders, Sr Miriam Lucas, with the support of volunteers and fellow founder, Sr Barbara Perry.