Looking for an extraordinary venue to hold your event or course?
Facilities and Room Rental
There is a tangible feeling of peace and serenity when you enter Luisne and our visitors particularly like to spend time in the over 200 year-old walled garden. In keeping with our beautiful surroundings, we like to create an atmosphere of welcome and calm at Luisne to really benefit all who come to really benefit from their time out. We were delighted to host our first wedding at Luisne in August 2013! The bride and groom were delighted with their choice of venue and the photographs reflect the uniqueness of the day. At Luisne, we have several rooms available for rental by local tutors, therapists, facilitators and teachers. Depending on the nature of the course, we can advise on which room is most suited to your needs.  Dimensions for each room can be found on the Rooms Page. The location of Luisne, just off the N11 and surrounded by 40 acres of undeveloped land, makes it an ideal venue to hold your event or retreat. The house has four main rooms that can be rented out, along with use of a large kitchen (pre-arranged) and ample toilet facilities. The kitchen is also rented for some courses. Unfortunately, due to the nature of the heritage house, the building does not currently have wheelchair access. At Luisne, we are delighted to facilitate courses and events that uphold our vision and values.
The costs for room rental at Luisne are as follows:
Non Profit rental rates:
5 persons or less –   €25 ( 1hr 30mins)
5 persons or more  – €30 (1hr 30mins)                          
Half day rate (9am-1pm) – €60                                         
Full day (9am – 5pm)  €120 or 40%
Weekend (6pm Friday to 1pm Sunday)  €200 or 40%
Corporate rental rates:
1hr 30mins  – €50
Half day rate – €100
Daily rate (9am – 5pm) – €250
Weekend rate (6pm Friday to 1pm Sunday)                   €500
The Walled Garden
A beautiful oasis, the walled garden is very much laid out as it was for the original occupants of Luisne, two hundred years ago! The walled garden is available to hire for an event, such as a wedding, communion party or other celebration. The many shrubs and trees provide a beautiful backdrop for those all important photographs to capture your day. The walled garden can be accessed independently of the Main House, giving you independence and freedom to run your event but respect must be shown for the fact that the house provides living quarters for some of the Luisne team and also that courses may be in session.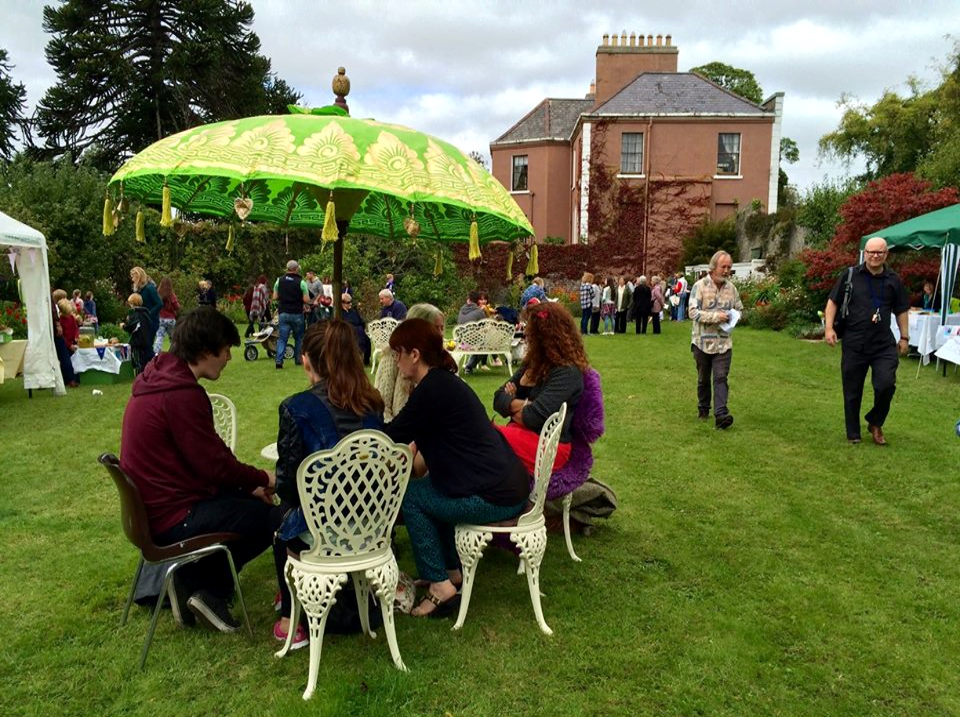 Meditation Room
This special space is available for Meditation, Mindfulness, T'ai Chi or Yoga. This unique space could be described as sacred because it is used only for these activities. The views from it's 3rd floor windows are truly spectacular encompassing Wicklow mountain and pastoral lands combined with glorious sunlight in the afternoon. Facilities: Meditation mats and cushions, chairs, iPod docking station, dvd player and Tea-making facilities.
| | |
| --- | --- |
|  Meditation room:  | Meditation room waiting area:  |
| 24.5x 17.7ft | 17.3 x-15.4 ft  |
| 7.4 x 5.2m | 5.2 x 4.6m |
The Parlour
The parlour is the main room of the house, located on ground level and accessed through the main foyer. It has bay windows that overlook the grounds of Luisne to the back. The Parlour can seat up to 50 people theatre style. Chairs are provided. Facilities: Television, DVD Player, Projector, Piano!and tea-making facilities  
Parlour dimensions:
25 x 16ft
7.6 x 4.9m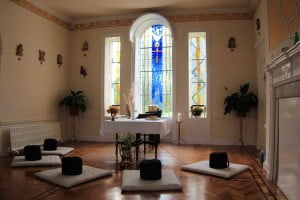 The Chapel
The chapel is situated on the left-hand side of the main building and is accessed through the main foyer on the ground floor. With a wooden floor and windows on each end, the chapel is suitable for a number of different purposes. The beautiful stained glass windows make this room a special place to work from, either for one to one sessions or group work. Facilities: Meditation mats and cushions, chairs, iPod docking station, dvd player.tea-making facilities  
Chapel dimensions:
24.09 x 17ft
7.3 x 5m
Dining Room
Room easily accommodates 20 people at tables or in circle 12 people. Facilities: Banquet chairs and tables. iPod docking station, dvd player
Dining Room dimensions
24.09 x 17ft
7.3 x 5m
Spirituality Library at Luisne
Within the historic main building at Kilcoole, our spirituality library is located in the ground floor sitting room, just off the main entrance hall, with a view of part of the gardens to the rear. This room provides a pleasant and cosy environment in which to select and borrow a book, or simply browse. Although display space is of necessity limited, the Luisne library contains a very wide range of books and journals relevant to our courses at Luisne.
Here you will find writings on Spirituality, Meditation, Prayer, Cosmic Awareness, Religion, Ecology, Feminism, Art, Healing, and much more. Selected to support our work of defining, questioning, extending, and renewing the role of the Divine in our cosmic life, the library provides thought-provoking and inspirational material for support, change, and renewal.
The catalogue of books can be downloaded (see Catalogue link below). Books can be ordered over the phone during library times and a pickup date arranged through the Librarian.
Library Times: Tuesdays from 10:45 – 1:00pm and Wednesdays from 6:00 – 7:00pm.
The Sitting Room On certain occasions, the sitting room is made available to small groups. Rental for this room is by donation on the night. Suggested donation is €5 per person. Therapy/Treatment Room We have a small therapy/treatment room for hire on certain days and at certain times of the day. The room is suitable for one-to-one therapy or one-to-one treatments and can be rented on an hourly basis. The cost of room rental is €15 per hour or €30 for 3 consecutive hours. There are two armchairs in the room, an electric heater and a wash-hand basin. The armchairs can be removed if a plinth is being used. Tea, coffee and biscuits can be provided for groups if enough notice is given, at a cost of €3 per person (minimum 8 people, organised in advance). You are welcome to provide your own refreshments at your course or workshop, but you are requested to wash and clean all cups, plates, etc, immediately after use. The kitchen may also be used (but not to prepare food professionally. Insurance: If you are planning to use one of our rooms on a regular basis, you will need to provide a copy of your own Public Liability Insurance and sign a licence agreement. To check availability and make a booking for one of our meeting rooms, please contact the office on 01 2010001 or email info@luisne.ie. When hiring space at Luisne, we ask that you take the following into consideration: Please be aware if there is another group in before and/or after yours, of the necessity to finish promptly so that the next group have enough time to set up. If your group tend to arrive early, please ask them to wait until the room is vacated by the previous group before going in. Some of the rooms are set up for daily prayer, meditation, etc. If you require a different set-up, please leave the room back the way you found it after your class.